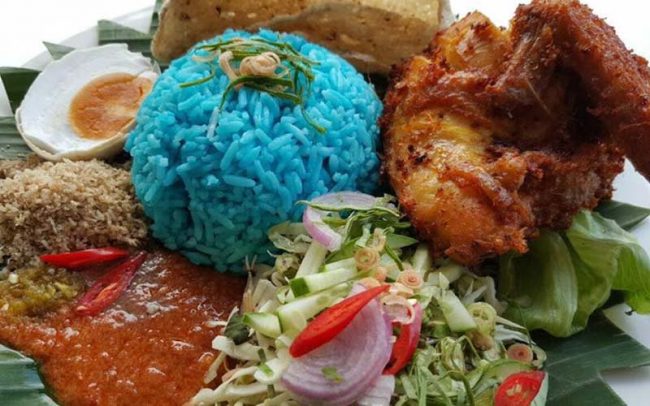 Who doesn't love the sweet and savoury taste that comes with coloured (usually blue) rice, the 'Nasi Kerabu'. The Kelantan-originated cuisine is favoured by everyone of all ages and races. It's a complete balance dish with protein of your choice, salted egg, salads, 'keropok' (crackers made out of fish), and of course a dash of 'budu' if you're up for the authentic taste.
Now everyone doesn't have to wait until 'bulan Ramadhan' to satisfy their craves for the fragrant dish. As we know where to get one! Here are 10 places to get Nasi Kerabu that are accessible for you!
READ ALSO: Kerana Hidup Susah 2-Tahun Makan Nasi Berlaukkan Kulit Ayam
1. KELATE KITCHEN – Setapak, KL

For everyone who lives around Setapak, or Gombak must have heard about Kelate Kitchen.
It is famous for it's Nasi Kukus as well as the infamous Teh Ais Madu to quench their thirst. Their yellow-coloured Nasi Kerabu is also not to miss for it's authenticity and of course, it's delicious!
Address: Plaza Prima Setapak, B, 7 & 8, Jalan Prima Setapak 1, Taman Setapak, 53100 Kuala Lumpur
Time: 10.00am – 10.00pm, daily
2. NASI KERABU AYAM MADU NORTH KIARA – Mont Kiara, KL

Everyone loves the delicious food comes from a humble stall. This Nasi Kerabu Ayam Madu North Kiara sells authentic Kelantanese dishes and one thing you cannot miss out is the sweet marinated chicken, tenderly grilled over charcoal – the ayam madu.
Address: Jalan 2/61 Bukit Segambut, 51200 Segambut, Kuala Lumpur, Malaysia
Time: 8.00am – 5.00pm, daily

3. RESTORAN PATATIMO – Wangsa Maju, KL

Restoran Patatimo has been very popular since being aired on TV.
Nonetheless, the finger licking good of crispy fried chicken paired with glistening blue Nasi Kerabu is to die for – not literally!
Address: No 11-G, Jalan Wangsa Delima 10, Wangsa Maju, 53300, Kuala Lumpur, Kuala Lumpur
Time: 6pm – 1am, daily
4. SAVARO – Mont Kiara, KL

So Savaro is a place to get a local casual cuisine, at the premium level – maybe suitable for business meetings, or probably a fancy date?
Over here they serve local dishes from different regions of Malaysia. Their special Nasi Kerabu is served inside a bamboo bowl with delectable fried Tenggiri fish, salted egg, slices of smoked beef and a generous sprinkle of local fresh herbs, toasted coconut shavings, fish sauce and fish crackers.
Address: A3-G2-09, Publika, Solaris Dutamas,, 50480, Mont Kiara, Kuala Lumpur
Time: 10.00am – 11.00pm, daily
5. TUU DOK KO 1488 RESTAURANT – Batu Caves, Selangor

This restaurant is always filled with people for their best varieties of Kelantanese food fares in Batu Caves.
The recipe has been passed on through generations and is gaining popularity at a very fast pace. Some even says that you have to be there early in the morning as their Nasi Kerabu could sold out at any second!
Address: Jalan Samudera Utara 2, Taman Samudra, 68100 Batu Caves, Selangor
Hours: 6.30am – 5.00pm, daily

6. SELERA SEMARAK – Kampung Datuk Keramat, KL

Sometimes we have no clue on how can a simple dish could be more delicious than any other delicate dish.
The Nasi Kerabu at Medan Selera Semarak is really a straight-forward dish. It's the same with cabbage, long beans, coconut sambal, prawn crackers, together with a well marinated fried chicken. But it just taste much better.
Now this cafe in Shah Alam is raising the ante up by putting a side of lamb chop with their Nasi Kerabu.
Nonetheless, the lamb blend well with the dish – Nasi Kerabu could be match with anything I guess? Pair it with top notch service and experienced chef, you could expect nothing less to what you're paying for.
People in Shah Alam rejoiced as they can always get a cheap Nasi Kerabu just around the corner.
People can choose their own protein either chicken or beef, and the whole plate is less than RM10. It's always a go to place to fill that belly without emptying your wallet.
Address: 38, Jalan Novelis U1/86A, Laman Glenmarie, 40150 Shah Alam
Hours: 8.30am – 4.00pm, daily
9. DUA BY SKOHNS – TTDI, KL

Dua is really a cozy place that not only selling fresh Kelantanese foods, but offers perfect and relaxing ambiance for friends and families.
Their Nasi Kerabu is famously being paired up with either Kambing Bakar or Sotong Celup to fit everybody's taste buds.
Address: 12A, Jalan Tun Mohd Fuad, Taman Tun Dr Ismail, 60000 Kuala Lumpur
Hours: 12.00pm – 3.00pm, 6.00pm – 10.30pm, daily
10. WARUNG SOHO – Sri Hartamas, KL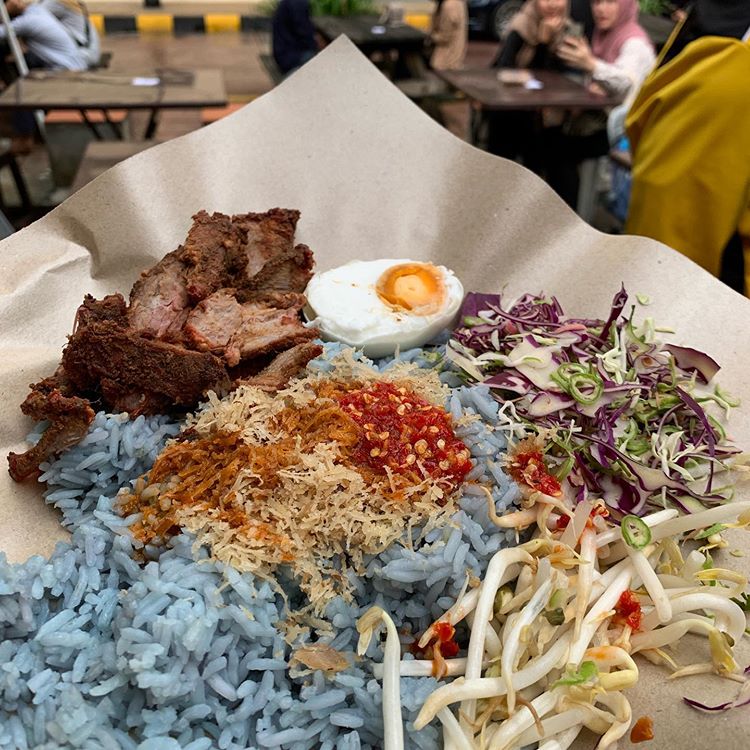 This Nasi Kerabu is said to be a fluffy perfection.
Paired it with gulai ikan tongkol, ayam percik, or even the kambing bakar if you're feeling it. Side it with kerisik and coconut sauce, you have yourself a very good day.
Address: B-0-4, Plaza Damas 3, Jalan Sri Hartamas 1, Sri Hartamas, 50480 KL
Hours: 10.30am – 4.30pm, close on Friday
Don't forget to follow us on Facebook and Instagram.
MyFirstTime: Jadi Ke Tidak Buat Blueberry Pie?