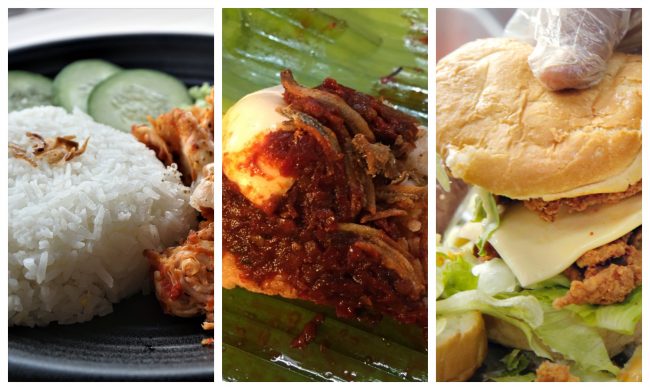 Subang Jaya is a wonder when it comes to food, and obviously for locals it is the place to get the best supper foods in town.
Probably because Malaysians are nocturnal, but these spots are usually crowded with people. But so and so, these are the best place you can get a late night grub. Here's 6 Best Supper Place in Subang Jaya 2019.
READ ALSO:  6 Must Try Nasi Kukus In Selangor – KL
1. Nasi Lemak Panas Sambal Warisan Opah

Nasi lemak has been the staple food when it comes to supper grub. And this undoubtedly the must go place when it comes to the fragrant rice cooked in coconut milk.
Their nasi lemak only sells for RM1 — yeap, freaking cheap – and it comes with variety of side dishes to choose from; beef rendang, sambal lala, prawns, you name it. So for anyone who's in the area for budget treats, go check out Nasi Lemak Panas Warisan Sambal Opah.
Address:7, Jalan USJ 9/5p, Subang Business Centre, 47620 Subang Jaya, Selangor
Time: 5pm – 5am, daily
2. JS Mamak Lorong


Have you ever had the craving for "indomee burger"? This is the place for you!
This tightly spaced mamak spot has been a favourite place for many. The indomee which has been topped with mashed up patties, fried with eggs and onions, have been the craze for late night supper.
Address: 5, Jalan SS 15/7, Ss 15, 47500 Subang Jaya, Selangor, Malaysia
Time:6pm – 5am, daily
3. Restoran Darussalam


No one can argue when it comes to mamak and supper together. It has been our culture to be having a late grub with our friends at one of these establishments.
This one in particular, is a must go whenever you're at late hours in Subang. Restoran Darussalam is famous for their Nasi Lemak Ayam where you can get the tender and succulent chicken for your late night snack.
Address: Jalan SS 15/8b, Ss 15, 47500 Subang Jaya, Selangor
Operating Hours: 24 hours, daily
4. Burger Baek

Now who agrees that a burger is the best supper food of all times?
Burger Baek will serve you their infamous Crispy Chicken burger that could beat any fast food joint for days. The deep fried boneless chicken thigh, top with lettuces and all the condiments, your night will be fulfilled.
Address: Jalan PJS 8/14, Bandar Sunway, 46150 Petaling Jaya, Selangor
Operating Hours: 7PM – 3AM, Daily
5. Kotak SS15


If you're a spicy-freak, best to drop by this place that offers you Indonesian inspired cuisine with their homemade sambal chilli.
A must try would be their Ayam Geprek and variety of Mi Sedap dishes. Maybe try wear comfortably before going to bed because who knows how many bathroom trips you're gonna have later on.
Address: 7, Jalan SS15 / 8B, 47500, Subang Jaya , Selangor
Operation Hours: 12pm – 12am
Don't forget to follow us on Facebook and Instagram.
Daging Kambing Berbukit, Nan Cheese Boleh BUat Langsir! 😂