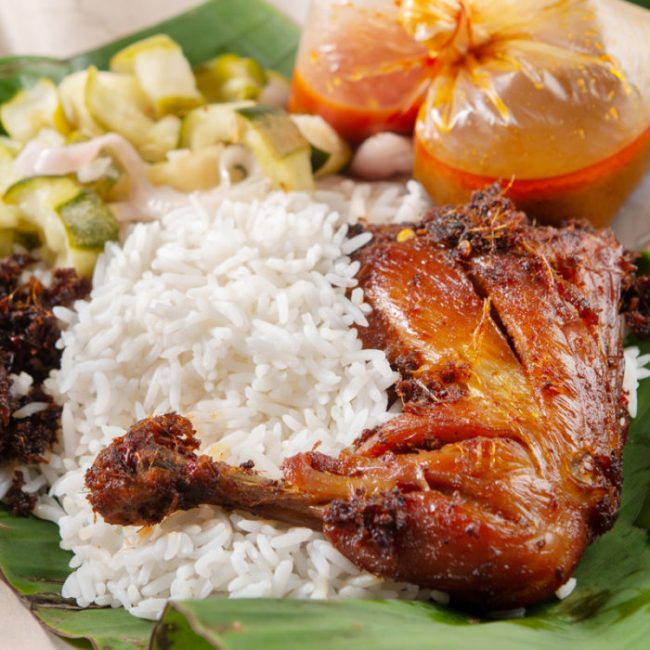 Malaysians always associate the love for their country, to their foods — and why don't they? The versatility of our foods enables everyone to taste the savouriness and richness of the multicultural of Malaysia.
One of the must-have-dish every once in awhile will of course be the 'nasi kukus', steamed rice top with flavourful "gulai' and with a side of succulent fried chicken. The infamous is dish is a delicious treat as well as a cheap alternatives. Here we have 6 Must Try Nasi Kukus In KL that will satisfies everyone's taste buds.
READ ALSO: 10 Best Places To Get Nasi Kerabu In Klang Valley
1. NASI KUKUS ILHAM – Mutiara Damansara, Selangor

Non-questionable place to get one of the tastiest 'gulai' around Mutiara Damansara, will be Nasi Kukus Ilham.
The dish will always comes with pineapple 'acar', 'sambal ikan bilis', and 'sambal belacan'. This place will always be packed with people during lunch and dinner time, so make sure to be there early to get their fresh batches of fried chicken.
Address: 7, Jalan PJU7/16B, Mutiara Damansara, 47810 Petaling Jaya
Time: 11.30am – 10pm, daily
2. NASI KUKUS LEJEN – Uptown Damansara, Selangor

Whenever you're around Damansara Uptown, Nasi Kukus Lejen is the place to dial into your cravings.
The spiciness of the 'sambal belacan', and the fragrant curry will be a delightful experience for the tastebuds. They also offers 'ayam goreng kunyit' to substitute their fried chicken — well in case if you want varieties.
Address: 3, Ground Floor, Jalan SS21/56B, Damansara Utama, 47000 Petaling Jaya, Selangor
Time: 10am-9pm (Monday – Saturday), 10am – 7pm (Sunday)
3. NASI KUKUS KAK MA – Semenyih, Selangor

If you find yourself on the outskirts of the city — or Semenyih — you must drop by to Nasi Kukus Kak Ma for a quick bite.
This hidden gem serves not only fried chicken as the side. There's fried tilapia and 'ikan keli goreng' (fried catfish) as well. Not forgot to mention they have bottomless drink on the house for those who couldn't take in a bit of spiciness.
Address: 12, Jalan 3/1, Bandar Teknologi Kajang, 43500 Semenyih, Selangor
Time: 8am-5pm, daily
4. NASI KUKUS FARNI – Bukit Damansara, KL

This humble stall operates only 3-hours everyday — except for Sunday. What's special here is their Kelantanese Beef Curry to uniform all flavours into one packet of 'nasi kukus'.
Not to mentioned their fried chickens are really fragrant, you could smell them from metres away!
Address: Jalan Medan Setia Satu, Bukit Damansara, KL
Time: 11.30am – 2pm, daily except Sundays
5. NASI KUKUS TONGGEK – Seksyen 18, Shah Alam

This 'nasi kukus' has their own branding in terms of presentation. The rice and the fried chicken will be served in a stainless steel cans.
The rice and the chicken will be piled together before topped off with a generous amount of sambal at the side.
Address: No 28-A, Selangor, Jalan Pinang D 18/D, Seksyen 18, 40200 Shah Alam
Time: 8am-10.30pm, daily
6. POK NIK NASI KUKUS – Cheras, Kuala Lumpur

Somewhere in Cheras lies a stall selling many traditional dishes, and their famous 'nasi kukus ayam kampung'.
Customers may choose any sides to their preferences ranging from the classic 'ayam kampung', 'ayam dara', 'ikan keli' and 'ikan bawal'.
Address: 3, Jalan Bukit Permai Utama, Cheras, 56100 Kuala Lumpur, Selangor
Time: 8am-4pm, daily except Sunday
Don't forget to follow us on Facebook and Instagram.
MyFirstTime: Jadi Ke Tidak Buat Blueberry Pie?