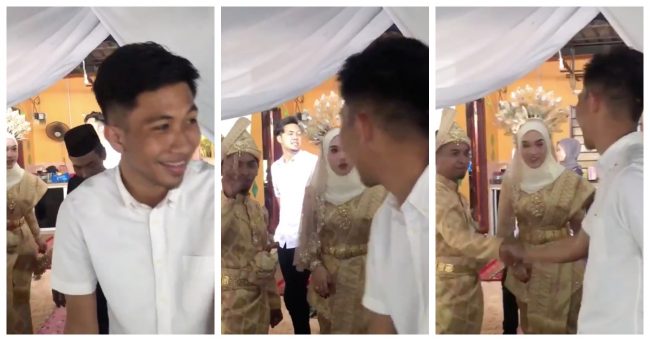 Have anyone experienced bumping into your ex before — or maybe to plural it to "exs"? And what would you do in the situation?
Reaction is something no one could anticipate it 100%. Recently a guy attended to his ex-girlfriend's wedding, and look kinda sad. But a video shared by his friend's Twitter turned out to be AWESOME to watch as the new groom chillingly gave a peace sign then shake hands with the guy afterwards.
READ ALSO: "I'm Supposed To Be Your Husband" Man Cried At GF's Wedding
member sedih ex dah kahwin. husband ex pulak buat lek angkat ✌🏼. panas hati member.

cc: @yushazelan pic.twitter.com/pvjGsP9h65

— 🙈 (@theroutinesya) October 5, 2019
At first you can see that the guy face gave the "bitter-smile" expression — which I guess that face is what the friend wanted to record".
The best part is, it does not look awkward at all! Both of the guys were so cool in this situation — but we can see a slight "nervous-ness comes from the bride's face".

Hanis' posting has garnered over 7,500 retweets since then.
We're curious to know how would you react if you bump into your ex. Moreover when it's at his/her wedding!
Share it in the comments section below!
Don't forget to follow us on Facebook and Instagram.
Nasi Kukus Pertama Atas Dunia Bukak 24 Jam, Kini Di Kajang!