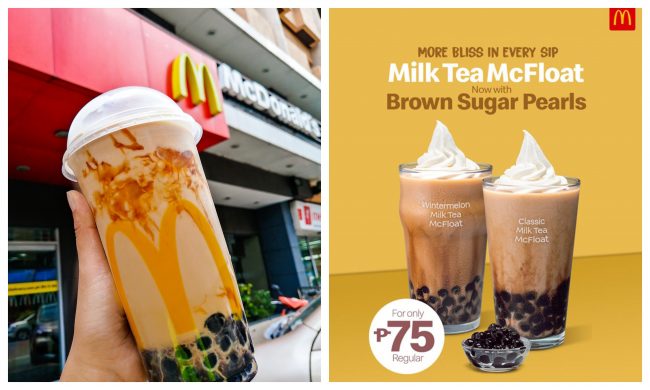 The boba tea craze is not making any brakes when it comes to serving its chewy sweet drinks for its fans. Now it's even making its way into the fast food franchises.
McDonald's in Philippines has recently added Milk Tea McFloat with Brown Sugar Pearls in their line of menus, and boba-lovers are rejoicing!
READ ALSO: Ahli Kimia Jelaskan Boba Tidak Akan Mengeras Dalam Perut
The new McFloat is served with generous amounts of tapioca pearls, with brown sugar syrup stripes, topped with soft-serve ice cream to finish.

The boba comes in two flavours; Classic Milk Tea McFloat and Wintermelon Milk Tea Mcfloat. Priced at just PHP75 (RM6), it's definitely alot cheaper than the boba tea we have in Malaysia.
So what say you Malaysians? Are we up to have this in our McDonald's? Or will this be a bust of overkill for having too much of a good thing at one place?
Maybe this could cool down the spicy sambal from the nasi lemak, no?
Don't forget to follow us on Facebook and Instagram.
Daging Kambing Berbukit, Nan Cheese Boleh BUat Langsir! 😂