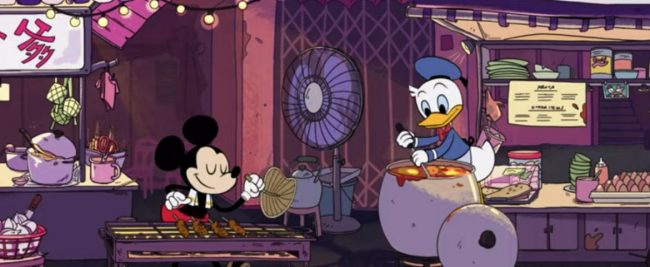 The Mickey Mouse and Friends are coming to town! And opened up – food stalls?
Who doesn't love these favourite animated characters growing up? In the recent animated series from Disney, "Mickey Go Local" heavily influenced by Malaysian's and Singaporean's culture. As featured in the two-minutes-clip by Disney Channel Asia, it captures our essence of foods, clothes, and architecture.
READ ALSO: Dulu Jejaka Gemuk Kini Jadi Putera Disney
This is to be a six-episode series with each spanning to two minutes sketch. New episodes will premiere on Disney Channel Asia's YouTube page and Astro Disney Channel (Ch 615) every month until January 2020.
In the first episode titled 'Master Hawker' – you could see Mickey is fanning satay whilst Donald Duck tossing the roti canai to impress Goofy who passes by.

Let's just admit it, these satay still looks yummy in their animated form (drool).

And these roti canai too (drooling even more).

Amit Malhotra, the The Walt Disney Company's regional lead for emerging markets (direct-to-consumer & international) said in a press statement:
"We are committed to creating locally appealing stories that are relevant to our fans. The Mickey Go Local animated shorts are the first time our beloved characters are seen enjoying South-east Asia's charms, providing heartwarming moments for kids and families" 
Now we can't wait to see all the gang get to get together now – Daisy Duck, Minnie Mouse, and Goofy's favourite sidekick – PLUTO!

Hopefully it captures all of our best local essence and make us more proud.