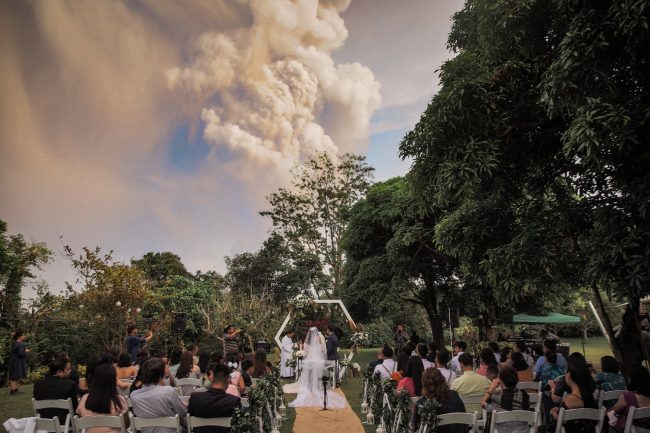 Taal volcano, is a popular tourist attraction set in the centre of a picturesque lake. However on January 12, 2020, marks a disaster day as the volcano spewed ash, rumbled with earthquakes, and exploded with lightning above its crest.
However a bad day for one, might be beautiful for other. And in this case, one couple in Philippines apparently got married with the volcano erupting in the background.
READ ALSO: Here Are 10 Photos Showing Typhoon Hagibis' Destruction

The photos were taken by Randolf Evan Photography. It is said in the post that the wedding venue was about 20km away from the Taal Volcano.

The couple told CNN that they aware of the eruption warning. Although they are nervous, but they are trying to keep calm, and continue with the ceremony.

The reception eventually be at halt after the condition was worsen. The ashes has become heavier and 'mud-like'.
However, they managed to complete the wedding beforehand. Exchanging vows, having their first dance, and giving speeches.
You may check the FB post here:
Make use of a bad day, and making sure to remember the day not as a 'disaster', but as 'our lovely wedding'
Don't forget to follow us on Facebook and Instagram.
Burger 'Sampah' VS Burger Mahal – Mana Lagi Sedap?! 😱