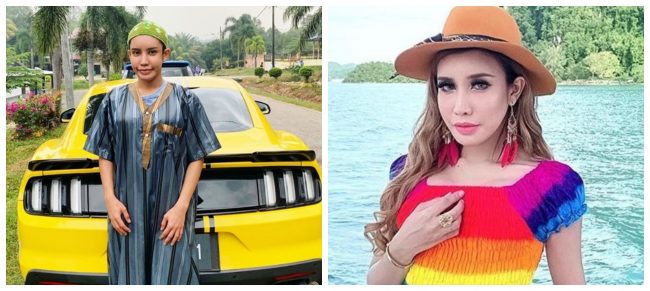 Who haven't heard of Safiey Illias? This successful entrepreneur who's also a singer for a viral single 'Syinta Gila', has been said to have been slowly turned to a new leaf.
A cosmetic entrepreneur who always surrounded by controversial topics for being back and forth from being a guy to women – it's a complicated thing. Has recently being seen to wearing men's robes (jubah) on Eid Adha the other day.
READ ALSO: Entrepreneur Nur Sajat Will Be In KL Gangster Underworld Season 2

In an instagram post, Safiey stated that:
"I'm glad to be able to fulfil the promise I made to my parents. Last year should mark my last year to wear a woman's apparel. I promised to wear like a guy's on Hari Raya Qurban. It's my biggest sacrifice towards a better life" 
This is a familiar breakthrough for Safiey – hopefully. As everyones' aware that this was not the first time for this resolution's being made. But somewhere around December 2017, Safiey was back to look like a woman.
But Safiey urges everyone to wish all the best for this 'hijrah'. As added in the Instagram caption:
"Please put me in your prayers for my search looking for hidayah. I will take this slow, and not doing anything drastic. I need some space. And it has been two and a half month since I looked like a man. What's important is to be blessed by Allah, and for my family to be happy. Especially my parents"

Everyone are so happy to hear the good news as positive supports floods the comment section:

All and all, we wish all the best to Safiey's journey for a change. And hopefully the last we'll ever hear about any complicated gender bender from the entrepreneur.