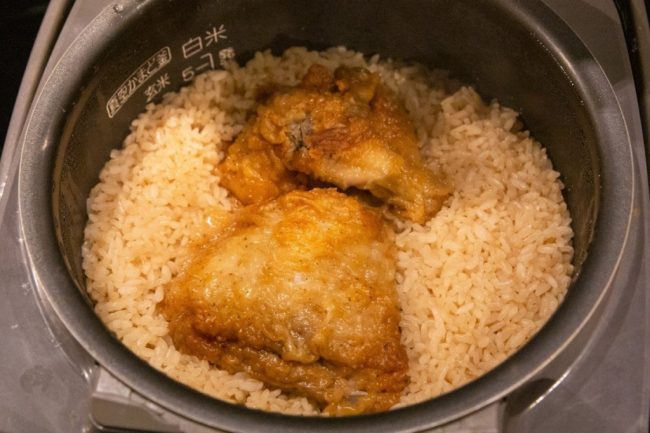 Chicken, and rice. Nothing can be more Asians than those two. And when the two combines together; it is unbeatable as a match-made from heaven!
Now Malaysia is no different. We have various versions when it comes to chicken rice — well due to being the melting pot for many cultures. This recent chicken rice recipe using succulent chicken from KFC can be consider as genius, and a must try at home!
READ ALSO: Giliran KFC Singapura Pula Perkenal Menu Kulit Ayam Goreng

This recipe was shared on a Japanese website with images that could make anyone drool.
Although it is written in Japanese, we could more or less interpret how to create this awesome dish, but here are some of the steps if you would want to try it at your home:
Prepare the rice (wash and rinse)
Fill up the rice cooker with the said rice
Put in flavouring agents for the rice; soy sauce, and chicken stock
Place at least two pieces of KFC's original recipe on top of the rice
Then put on the lid, and let it cook to perfection

The aroma that comes after you open the lid up, is somehow telling you a story on why God created all these ingredients for us; to create FOODS!
The chicken will be falling off the bone, and it is said to be the correct way if we're to mix the chicken together with the rice.

Want to add more seasoning? Your call! Want to put a fried egg on top? You decide!
This is worth the try people! Let us know what you think of the recipe. And I believe we can experiment with a lot more using our creativity!
Don't forget to follow us on Facebook and Instagram.
Daging Bakar Danok Paling Sedap Atas Dunia Ada Kat Penang? 😱