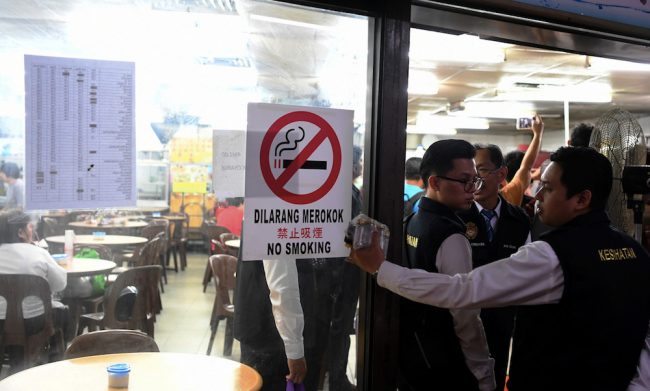 By now, many would have heard about the hassle and bustle about the smoking ban at eateries — What way to celebrate New Year right?
Well people are still trying to adapt with the transitions. As the officials are going all out, some of them even having a shock by having swarmed by the officials before getting a summon.
READ ALSO: Ini Cara Buat Aduan Melalui WhatsApp Jika Nampak Orang Merokok Di Kedai Makan
Rokok punya pasal

Posted by Syham Syham on Khamis, 2 Januari 2020
The video showed a young smoker being surrounded by about 10 enforcement officers donning black vests.
The man holding the camera also said in the video that the numbers alone could instil fear to anyone who are smoking at eateries.

Everyone will be adapting surely, but just as a reminder it is important to note that the government gave the public 12 months' notice for preparation for it.
Those who smoke will be slapped with a RM250 compound for the first and second offences, with third-time offenders will be hit with an RM350 compound, this is also applicable to eateries who allow customers to smoke too.
Don't forget to follow us on Facebook and Instagram.
Burger 'Sampah' VS Burger Mahal – Mana Lagi Sedap?! 😱