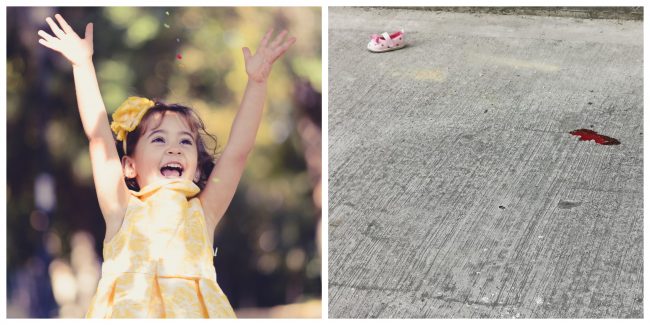 One thing the world needs to hear again, and again is the word "responsibility".
But in this case, it's not necessarily means ONLY for the parents. A heartbreaking event occurred on a beautiful Sunday, December 1, 2019. A family from Batu Pahat was visiting the district of Penampang, when a toddler fell down from fifth floor onto the concrete ground below, through a gaping hole — a really tragic incident.
READ ALSO: Lelaki OKU Gigih Jual Ikan Masin Cari Dana Rawatan Anak

The family was there for a vacation when tragedy struct. The mother was there with her two daughters (a three year old, and a one year and seven months old). The pair of sisters were running happily towards the direction of a bridge to a connecting building.
It's normal for a parent to keep an eye on their children, as this mother does. Little did she know that the area is actually not safe as the bridge is actually still under construction — but it was too late.
There were no warning signs put up by the management of the building, or by the construction company, at all.
Later, the police were alerted of the incident, and the toddler was rushed to the hospital. But unfortunately it was too late, as she was pronounced dead at 4.30pm by the doctors.
There were some inconsiderable netizens who says that this is the irresponsible behaviour by the mother. However, she was there to watch the kids. The "not responsible" in this context should falls to the management and the construction company.
In order to make it clear, her family member even showed proof of a police report, mentioning that she was there supervising the children:

Please everyone, never jump to conclusion as this is a really heartbreaking for the family. And please always be careful anywhere you go.
Don't forget to follow us on Facebook and Instagram.
Daging Bakar Danok Paling Sedap Atas Dunia Ada Kat Penang? 😱