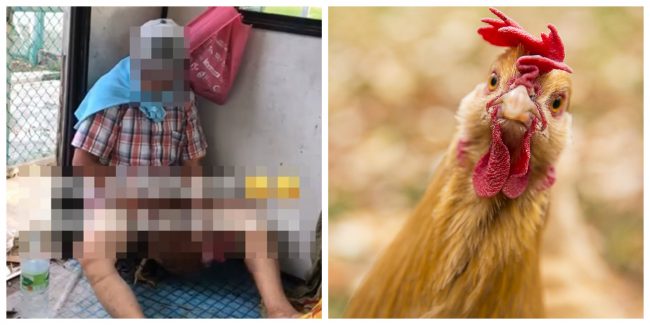 It seems that this situation has been a quite the talk recently, a concept of "broken society" to be more specific. People often compares how does Malaysians fare to other society — say, probably compared to the English gentlemans?
Now it is getting worse, as a recent viral news according to China Press, a man from Alor Setar, Kedah, gave in to his urges (sexually) on an innocent hen by raping it.
READ ALSO: Malay Boy 'Flirts' On DM Saying He Wants to Lick Her Butt & Rape

The video has been pixelated for viewership.
But from the horrible video, we can see that the man is half-naked on the bottom while holding the chicken to his private parts.
It is a disturbing thing to watch, and it clearly shows us how demented our society is.
This sort of sexual activity is considered illegal in Malaysia. Anyone who founds guilty can be prosecuted as a violation of natural sexuality under Article 377 of the Criminal Code, and he can face a maximum sentence of 20 years in jail and could be subjected to a fine.
From this, we clearly need a defined plan for sex education for our people. People are stand to rape anything that moves these days. What's next? Inanimate object?
Don't forget to follow us on Facebook and Instagram.
Pemilik Gani Pasembor Di Penang Dedah Rahsia (Ramai Tak Tau!) 😱