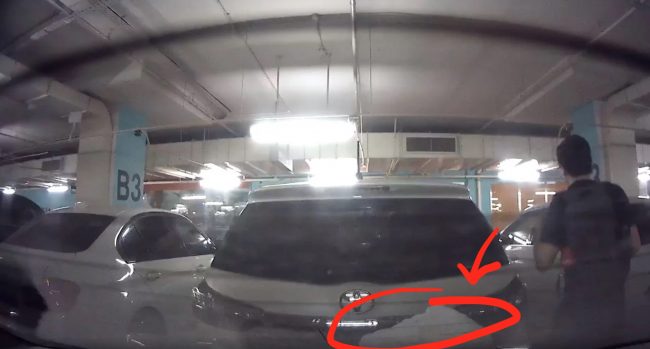 Disgusting behaviour is a sin, especially if you involved other people in the mix.
Recently a dash cam caught a man who dumped a used diaper on the hood of the car parked behind him before he left the carpark at Tampines Mall, Singapore.
READ ALSO: Disgusting Maggots Found In Chicken At Mamak Restaurant
The video was shared by the car owner, Jonathan Lee, whose car was left with the diaper, took the video in Facebook to expose the disgusting man for littering.

The man is putting his child's stroller at the trunk of his vehicle. Then he's being passed a used diaper presumably to be discard at any disposable location.

But he rather taking a simple –but stupid solution by throwing it at the hood on Jonathan's car who parked behind him. He then drove off as if nothing happened.
Jonathan has shared that he's making a report to the authorities in regards to this. Here's the full post for reference:
Met an inconsiderate driver who threw his child's used diapers onto my car. After doing his deed, he took a 2nd look and…

Posted by Jonathan Lee on Sabtu, 24 Ogos 2019
All and all, this is an unacceptable behaviour regardless if you're alone or and especially when you're at a public place.
Lets remind anyone that littering is not cool!
Don't forget to follow us on Facebook and Instagram.
Air Durian D-24 Tornado Paling Meletop!