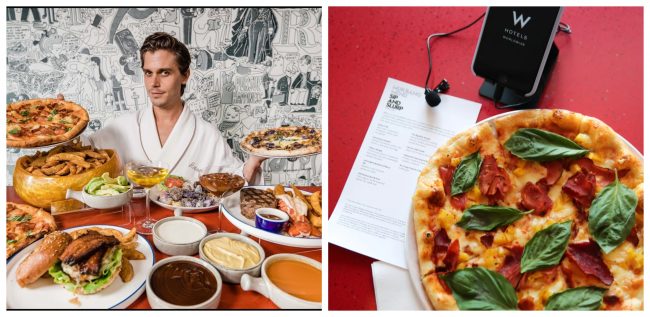 Slurping, chewing, chomping, and binging. Would you watch others scarf down large platefuls of foods? The 'mukbang' phenomenon is a thing to watch these days.
The W Hotel in Washington, DC introducing its Sip & Slurp menu, a 'mukbang' room service package worth of $285 that comes with a lapel mic and a phone stand for guests' needs – well maybe not all guests.
READ ALSO: Tak Perlu Ke Korea Buat Sendiri Tteokbokki Di Rumah

THE SIP & SLURP PACKAGE
This extravagant package is limited only to the W Washington DC as for now, and the Sip & Slurp menu is available until the end of 2019.
The idea of the whole package is to raise a publicity campaign to celebrate the hotel's $50 million renovation. By introducing a 'mukbang' package, it will definitely attracts many influencers to create contents at the hotel and create better exposure based on the internet trends.
QUEER EYE FOOD EXPERT, DO HIS FIRST EVER 'MUKBANG'
Antoni Porowski; the foodie from the infamous Netflix's series, Queer Eye's, help to kicked off this package by doing his first ever 'mukbang' video. In the video you can enjoy watching him demolished this foods – from a lobster tails to burgers.
Here's everything Antoni's is having – and what's included in the menu according to The Verge:
Aloha Y'All: tasso ham, caramelized pineapple, tomato, basil, mozzarella
Farmhouse Quaker: smoked mozzarella, potato, red onions, crispy duck, farm egg
Cherry Burger: 0.5 lb house blend Creekstone Farms beef, red onion marmalade, raclette, Dijonnaise
The Big Belly Burger: double beef patties, cheddar, lettuce, tomato, grilled onions, pickles & W1 sauce
Old School Surf & Turf: filet mignon, butter-poached lobster tail, steak fries
Cheese & Charcuterie Board: pickles, mustard, breads, crackers, compote
XL Crispy French Fries: truffle aioli
Carrot Cake Tower: sweet carrot sauce, streusel
Just Like Grandma's Cherry Pie: served on cast iron with vanilla ice cream

SO, WHAT'S THE PRICE LIKE?
Okay, so the $285 price will be excluding:
5 % delivery charge,
16 % service charge,
5 % administrative fee,
10 % DC sales tax that'll be added to your check "for your convenience", and
$200 for the minimum room rate.
This will put the full price at a whopping $387.60 (sigh). The room rate can go up to $800 for a suite.
The menu requires at least one hour minimum order time – well yeah to prepare everything in check. Another part of the package deal is that you get to keep the mic and phone stand, courtesy of W Hotel. But it is as it said, a package deal – there's no option for an ala carte order.