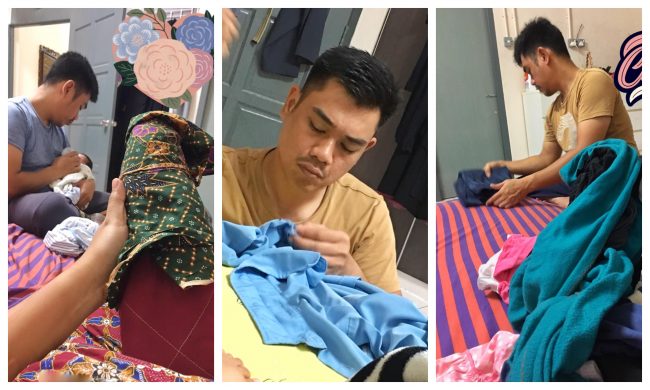 Being granted a newborn is the best damn feelings in the world for any parents. But no matter how awesome it is, parents are made to understand that it comes with responsibilities and a lot of work, especially for the first few months after the baby was born.
Malaysians must have heard the term "dalam pantang" a lot which refers to the period of time where the mother has to take care of her diet, and to have proper rest after giving birth. A woman shares how her husband took care of her and the family and proud to say that he's the "suami mithali" material.
READ ALSO: Viral Wanita Dukung Anak Bawa GrabFood, Suami Dedah Kisah Sebenar
A mother in Kuantan shared in her Facebook about her husband's tender loving and responsible behaviour during confinement.
The husband would take care of all 5-other children by making breakfast, prepared herbal bath water for the wife, and many other morning duties before he go to work and sending their daughter to school.

He'll come back home during lunch time to shower the toddlers, making lunch, do laundry and continue with other chores. He will then leave again for work at around 2.30pm.
Not only that! As the mother who is known as Siti, is an online shop owner, she is required to sending parcels, posting parcels, picking up things, meeting up people. Her husband also helps on that!

The husband is already be seen as a hardworking guy, it's kind of rare to see this behaviour being portrayed to this extend.
We wish all the best to Siti's family, and kudos to the husband. May he become a role model for many.
Don't forget to follow us on Facebook and Instagram.
VIRAL!!! PISANG NUGGET DI MALAYSIA – AKAN BUKA DI PAVILION – SANG PISANG BY KAESANG