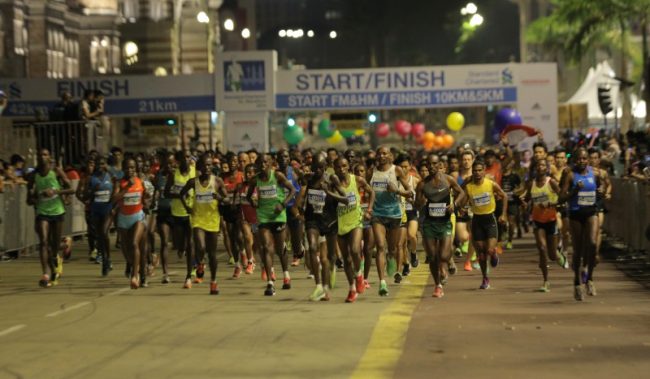 The time has come again for the annual Kuala Lumpur Standard Chartered Marathon which will be happening this weekend, September 28, and September 29, 2019.
As the haze is clearing up, this running event will proceed according schedule, and we would like to inform everyone that there will be 28-road closures around KL.
READ ALSO: KPDNHEP Beri Amaran Jangan Naikkan Harga Topeng Muka

There will be 40,000 runners participating in the event, and it has been confirmed that 445 police officers are assigned to ensure the traffic to be smooth as butter. The road closure are expected to be from 7am to 10am on Saturday, and 3am to 11am on Sunday.

The major road closure includes Jalan Raja (Dataran Merdeka), Jalan Tuanku Abdul Rahman, Jalan Sultan Ismail, Jalan Ampang, Jalan P. Ramlee, Jalan Raja Chulan, Jalan Bukit Bintang, Jalan Tun Abdul Razak, Ampan-Kuala Lumpur Elevated Highway and Duta-Ulu Klang Expressway.

You may refer to the road closure and it's time at KL Marathon.
Others on the list Jalan Kuching (from Selayang), Jalan Tuanku Abdul Halim (Duta), Jalan Raja Muda Abdul Aziz (Kuala Lumpur Hospital), Jalan Raja Abdullah (Kampung Baru), Jalan Langgak Tunku, Jalan Dang Wangi, Jalan Tunku, Jalan Tun Ismail, Jalan Dato Onn, Jalan Sultan Salahuddin, Jalan Parlimen, Jalan Damansara, Lebuhraya Sultan Iskandar, Jalan Kinabalu, Bulatan Sultan Hishamudin, Jalan Cendrawasih, Jalan Kampung Pandan and Jalan Pahang.
Don't forget to follow us on Facebook and Instagram.
Restoran Di Shah Alam Ini Sentiasa Penuh, Apa Rahsianya! 😱