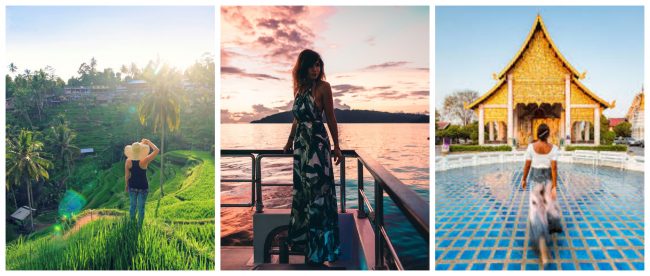 When planning a trip to sometimes in October could be a hassle considering the weather and what's going on in the countries you want to visit are both important parts of that process – but you still want to quench your travelling thirst!
So, there are still many places to consider whilst still enjoying the Asia's travelling experience. Here are 3 Best Nearby Travel Destinations in October 2019.
READ ALSO: 10 Essentials Safety Tips For The Solo Female Traveller
1. Bali, Indonesia
It is known that the best time to visit the "Island of the Gods" is in October as it is without the crowds of the peak season.

October is the last non-rainy month until April. On an average there are 15 days with light rain fall in October, mostly during the night. So it is the best time to get cheap hotel rooms and villas, as it is definitely low season!
A montage of culture, nature, adventure, art, architecture, religion, and festivals, Bali is one of the best places to visit in October in the world.
2. Chiang Mai, Thailand

If you go to the popular cities in the South East Asia such as Bangkok and Kuala Lumpur, you are still likely to get rained on in October. But if you head a bit north to Chiang Mai you'll have less chance of rain and you'll also get much more pleasant temperatures in general.
The thing is you may still get some rain. But an advantage to come at this time is that everything is still green and clean and the many waterfalls near Chiang Mai are still with a lot of water
Chiang Mai is a very affordable city with posh hotels offering low prices and nearly everything is cheaper compared to Bangkok or other islands. So it's a good place to hang around and enjoy the weather if you've got the time.
3. Kota Kinabalu, Sabah

Although Sabah is certainly a year round destination, August and September are generally considered the best months to visit. And October is when it JUST starts getting wetter.
The idea is that you can still enjoy Sabah at this time as there's every chance of finding blue skies either side of an afternoon shower for its changeable weather. Accommodation and flights are less expensive during the 'low season' maybe and thanks to Sabah's changeable weather there's every chance of finding blue skies either side of an afternoon shower.