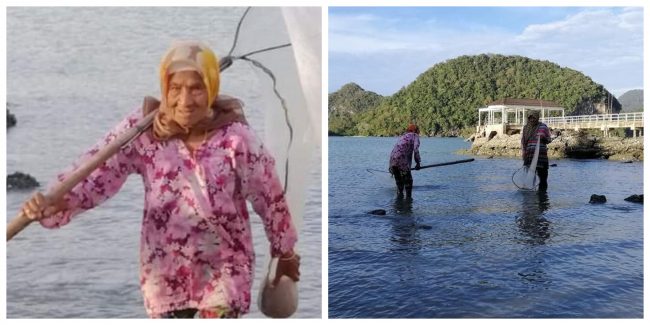 So what you gonna do after retiring, at the age of maybe 60? Living peacefully in 'kampung'? Or maybe as for millennials, playing games?
This one grandmother from Langkawi is not having any of that. She looks strong, and is strong! She is still until today go out on the sea almost every single day to catch fish, as she is a 10-year-old fisherwoman.
READ ALSO: Lelaki OKU Gigih Jual Ikan Masin Cari Dana Rawatan Anak

The story revolves around Tok Wan, who not only an expert in catching fish and shrimp, but also famously selling her homemade 'belacan' for a living.
This has been shared through a Twitter post that had garnered about 13.6k retweets.
Some of the netizens inquire whether she has a family, and the Twitter user said she does. It is just that this strong grandmother insists on doing her daily routine, although the family asked her to stay at home.
People can buy her belacan at Pulau Tuba, Langkawi. The Twitter user recommending people to go and try it, as well as be able to help her out.

This amazing story should be shared with everyone. It teaches about perseverance, attitude, as well as the keep-on-going attitude. Let us know what you think in the comment.
Don't forget to follow us on Facebook and Instagram.
Burger 'Sampah' VS Burger Mahal – Mana Lagi Sedap?! 😱