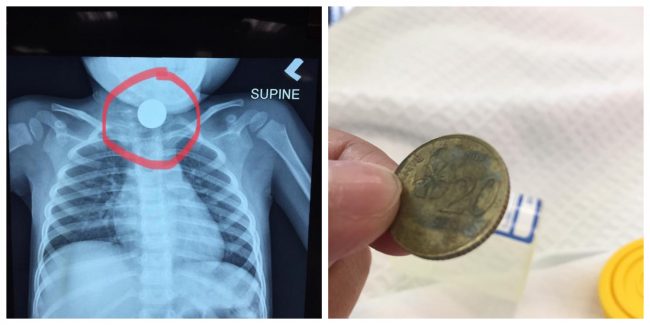 Hospitals are responsible for their employees' negligence, but the facility itself is not always liable for medical malpractice that occurs in the treatment setting.
Recently, a mother shared how she and her husband had to anxiously wait 24 hours before doctors could remove a 20 cent coin that was stuck in their child's throat.
READ ALSO: Baby Died As Terengganu Nurse Refused To Admit Without Any IC

The story posted on a Facebook page, her child accidentally swallowed an object and choking around 11pm at night.
After failing to get it out, they decided to go to KPJ Kajang. However, the receptionist did not even look at the x-ray and told them that the hospital is fully occupied, and to go to a different hospital.

Angry and frustrated, the parents scold the staff until one of the hospitals' superior came and explained that the hospital does not have a child surgeon.
Therefore the staff was lying about the full occupancy. It somehow prolong the kids' suffering. Luckily then the hospital immediately bring the kid into the critical zone where a doctor checked the sick toddler, before proceeding to any surgery.
Around 8am (after 9-hours of choking incident), another x-ray session is scheduled, the family then being referred to Hospital Kuala Lumpur (HKL) due to lack of resources.

At HKL, few doctors attended to him and scheduled his operation at 6.30pm (19-hours after incident). At 10pm, the coin was successfully removed!

The mother is sharing this experience to others in hoping that no one would be experiencing the same thing. In regards of the situation, she is still thankful to all the hospitals' staffs for help saving her child.
A child's life is a no joke. Hopefully everyone is doing their best do their job well, without having to succumbs to lie, or being ignorant.
Don't forget to follow us on Facebook and Instagram.
Burger 'Sampah' VS Burger Mahal – Mana Lagi Sedap?! 😱