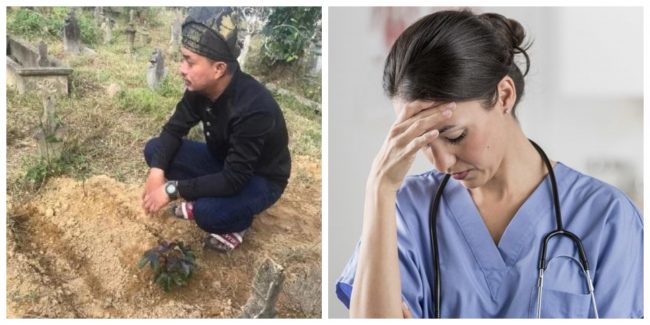 The birth of a child is not a trivial thing, in fact it could be a long-waited attempt by any family — that's the reason why they called it 'anugerah' or 'rezeki' in Malay culture.
Imagine after trying so hard to have a child for many years, and it ended up badly because of unprofessional act by the hospital administrators. A man shared his sorrow experience on his Facebook page on how his child could have been saved if only some individual decided to do 'humanity' instead of 'SOP'.
READ ALSO: Woman Shared How Her "Suami Mithali" Taking Care Of The Family During Confinement
On the tragic day, December 8, 2019, the couple are on their way to the hospital, and the baby had already come out halfway.
People may forget a lot of stuffs in an emergency situation. On their way to the Sultanah Nur Zahirah Hospital Kelana, they forgot to bring all the important documents, the pink book, medical documents, and the wife's IC.

After they arrived at the hospital, they went straight to the emergency ward when the nurse kept on pressing the husband to go home and get her IC — it was a 20-minutes drive, and the baby has come out halfway.
How many times have we encounter such an ignorance statement such as:
"Owh, just make the trip quickly, you still have time."
What's worse was that, the nurse made an exchange to another receptionist, and then the other receptionist kept asking the same thing; "IC? Marriage certificate? Your child's pink book"
Then the couple are being scolded for not preparing all those documents, as the hospital could have been mistaken them for foreigners — what? And the hospital even ask them to go to a different hospital.
After about 30 minutes of bantering, the hospital still process it using the husband's IC, but regrettably, the baby has died and when it came out, the body was blue all over.
As it turns out, the baby had a critical stage 4 internal bleeding in his brain, and was already on stage 2 during the first day. Which the hospital also failed to inform the couple after the doctor gave a brief explanation on the baby's health during the first day.

This incident has brought despair to the family, and the husband only hope that it does not happen to other family, and to have certain measures taken to the hospital administrators.
This is certainly a sad news. Our condolences to the family, and may the baby be at peace.
Don't forget to follow us on Facebook and Instagram.
Ini Lokasi Kopi Terbaik Di Puchong Yang Ramai Tak Tahu