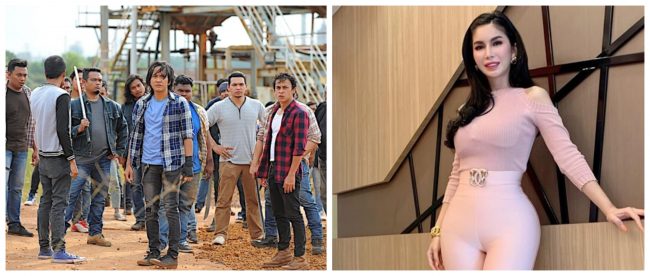 Whilst surrounded by countless of controversial gossips, accusations, critics – well who else haven't heard about it?
A cosmetic entrepreneur, Nur Sajat, was speculated to received an offer to be in the second season of a local iflix series, KL Gangster: Underworld. Yeah, you heard me right, a gangster drama.
READ ALSO: Netizen Menangis Tengok Sajat Buat Roti Jala

This has been shared in one of the entrepreneurs' Instagram post on the WhatsApp conversation with the producer from SKOP Productions.
Based on the conversation, Nur Sajat will possibly have a role in brothel scene from the series. There's no confirmation to how many episodes will she be in, or what exact role will Sajat act on – maybe a 'pimp'? Or a loan shark?

Fans are flooding in the comment section as soon as this posted up. Everyone has been very supportive to see the opportunity is given, one would even wish that the corset entrepreneur would win 'The Best Supporting Actress' award.

This is the reply from Nur Sajat after various bombardment about the possible 'brothel' scene:
"I don't mind a brothel scene, as long as I'm on the TV"
All and all, we just hope all the best to Nur Sajat on whatever role or scene that will be in.