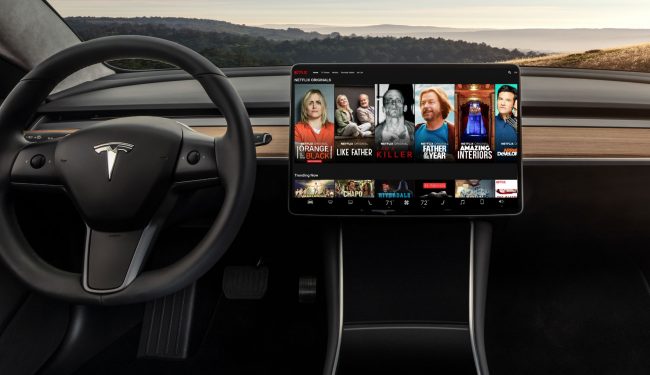 Tesla is taking 'Netflix and chill' to the new level – Binging on the road.
However, the new features only works whilst on stationary mode –  Tsk! go figure. But it's still a good addition while waiting to kill time in a parking lot. Or waiting for a very late passenger.
READ ALSO: Drama Siri Netflix Pilih Rambutan Sebagai Buah Alien Jadi Bahan Ketawa
Ability to stream YouTube & Netflix when car is stopped coming to your Tesla soon! Has an amazingly immersive, cinematic feel due to the comfy seats & surround sound audio.

— Elon Musk (@elonmusk) July 27, 2019
Tesla CEO Elon Musk took to Twitter to announce the upcoming feature, saying that it may be available in August and "not more than a few months" if it doesn't roll out next month.
At recent E3 expo, Bethesda studios announced that drivers would be able to play game at the dashboard display – such as; Fallout Shelter, Cuphead and some classic Atari games, like Tempest, Pole Position, and Missile Command.

BUT THE QUESTION IS, IS IT GOOD OR BAD?
Yeah, the features will be awesome for parents waiting to pickup their children. Or Grab drivers who're waiting for their passengers. The era of the current streaming notion should allows us to watch it anywhere, at anytime – we understand.
But who do we kid? Everyone have concerns.

The addition of 'distraction' could leads to poorer driving – not putting any names. Safety on the roads means to give full attention. Many people have not yet got the message about distracted driving generally. Netflix and YouTube are now directly linked to distracted driving.
The scary realisation is that; drunk driving is known to be wrong, not a distraction. The case of distraction – e.g. watching YouTube on the road, will just make the drivers feels that they're just a victims of circumstance, nothing's wrong, no bad choices.

All and all, it may take years for Tesla drivers able to speed down the highway while binging. But we do think some sort of awareness needs to be done to improve the current driving situation – before take it even further.