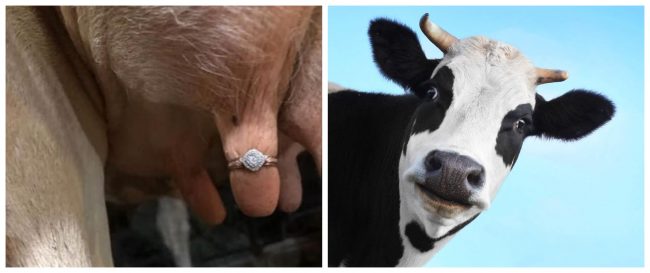 A Singaporean dairy farmer proposed to his girlfriend by sliding a diamond ring onto a cow's teat — and critics say the engagement photo is "udderly" creepy.
Facebook users have been left horrified (and some were hilarious) in the post, shared with 18,000 members of the global Facebook group That's it, I'm ring shaming. A young woman from Singapore shared a picture of an engagement post that had come up on her Facebook feed.
READ ALSO: Gugup Punya Pasal Pengantin Tersasul Mas Kahwin RM200 Jadi RM2

The woman explained that the person who initially posted it was a farmer:
"Shaming the ring and the whole photoshoot, The person is a farmer. Still doesn't excuse his bad taste. And is this considered as nipple ring? Also, the band is thicker than the center stone"
Of course tons of humorous and shameless puns using the word "udderly", as well as dairy jokes could not be missed.

Wonder how he get that ring squeeze onto the udder..

Some clever "He's really trying to milk the proposal," some clever soul joked.  "How dairy propose like that?!" asked another.

But in all the fun and grotesque, we wish that the proposal went well. And hopely they can have a happily "moo" wedding.