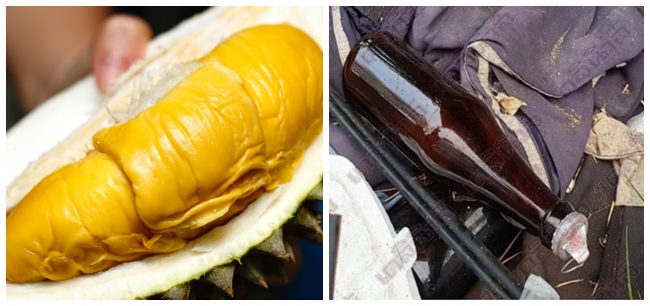 Durian is a delicious fruit no matter how stinky the smell is. Although like many foods, durian has a "don't-do-this-food-combination" for people to be aware of. And in this case, it's alcohol.
Recently a 48-years old man was discovered dead in Pattaya, Thailand on August 14, 2019. The corpse was next to an empty wine bottle, and a polystyrene container of durian.
READ ALSO: Research Shows Satay May Cause Cancer

A friend of the deceased known as Peng, had warned him about the consequences of mixing durian and alcohol. But the deceased keep insisted on doing it.
The two of them would usually go out to collect old goods everyday, and the deceased would ride the bus home afterwards. He bought the liquor and the durian, planning to eat them while waiting for the bus. However, he didn't make it as he was found dead at the bus stop the next day – condolence to the deceased and his family.

We have heard a lot of not-a-good-food-combination along the years; Mentos and Coke, Coke and Durian, Durian and Milk – intentionally put more durians here. Although lots have been saying that these are myths, it's still not a good idea to try it out to find out.
Just take it in moderation, we understand that "the world is our oyster", or "lets living it", and "you'll only live once" kinda ideas.
But yeah it's true. We can only live once.
Don't forget to follow us on Facebook and Instagram.