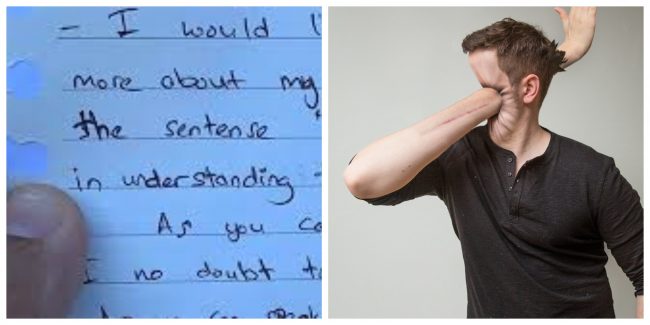 Teachers do get themselves viral these days — Although not all for the good reasons.
According to a parent, Gwen Kaur, her daughter was given a poor TP (Tahap Penguasaan) rating for the English language. As she knows her daughter is excellent on the subject, she confronted the teacher to find out more on the ranking system. Well, after handed a handwritten note by the teacher, it does left many shocked and appalled.
READ ALSO: Sekolah Lain Sujud Syukur, Pelajar SPM Biadap Buat Pesta Tengah Jalan Di Melaka
The note was then posted in Facebook group which Gwen shares her grievances on the injustice of rating system made by the not-so-good-in-English teacher.
The note clearly shows broken English, lots of misspelling, and somehow the message does not making any sense.
What is worse is that the teacher also put down in the note that her daughter has "difficulty in understanding the language" — woah, no do not blame it on the students!
And of course, netizens all around will not seeing this lightly as it's booming on social media:

Many are against that this teacher should continue teaching English:

What do you think of this? Remember that we still needs to intervene on the system before it gets any worse. Let us know your thoughts in the comment section below:
Don't forget to follow us on Facebook and Instagram.
Ramai Orang Selangor Tak Tahu Hotel Terbaik Ini! 😱