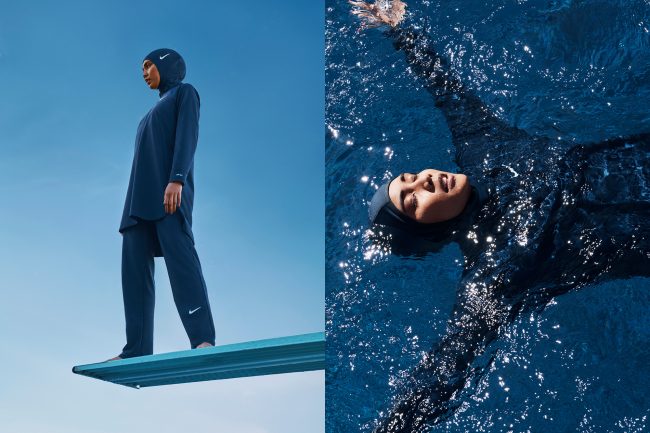 It is always a warmth thing whenever we hear that Malaysia is progressing. The SEA Games is still ongoing with every representatives are fighting for our country, and makes us proud — our prayers for everyone to do their best.. GAMBATE!
And recently there was another great news coming from the giant apparel brand, Nike. They just released its first modest, hijabi's inspired swimwear collection, and they featured our local, Malaysian model to be part of campaign.
READ ALSO: M'sia 'Breakdance' Athlete Won Gold at SEA Games Manila 2019
And this model right here ladies and gentleman, is Malaysia's very own @ArinnaErin ! So proud of her, being one of the model for @Nike's first range of modest swimwear. This is a big deal 🙌🏻 Malaysia represent 🇲🇾 https://t.co/ItSnqAADjU

— Att Yusof (@thisissoatt) December 10, 2019
The model in the campaign is known as Arinna Erin Wira, a Malaysian model who signed with BAME Models and based in the UK.
Just recently that she graduated from Brunei University in London with a Master of Science in Business Intelligence and Social Media — owh, beauty and brains huh?
The new Victory Swim line by Nike features a full-coverage swimsuit, a tunic top, full leggings, and a hijab suitable for water-related activities.
"It's sleek, innovative silhouette provide a game-changing option for female athletes seeking full coverage and full range of motion in the water"
From here, we are proud for Ms. Arinna, and thank you for representing Malaysia.
This is one of many steps to see Malaysia crawling in every sectors, and industries striving to making Malaysia, as an international household name.
Lets see more like this in the future. Have you done anything that would make Malaysia proud? Let us know in the comments below!
Don't forget to follow us on Facebook and Instagram.
Ramai Orang Selangor Tak Tahu Hotel Terbaik Ini! 😱