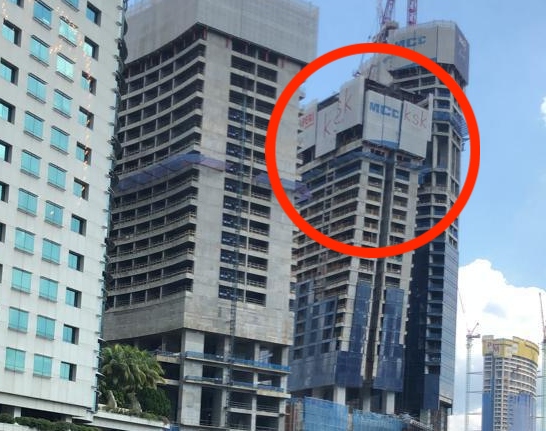 Recently people are freaking out over the image of a nearly-collapse building nearby to Pavillion, KL area. Little did they know, that it is actually a modern architectural design which almost resembles the Leaning Tower of Pisa at this point.
The building somehow caused an uproar on social media, and even create a huge traffic jam at the area.
READ ALSO: Rakyat Malaysia Disaran Kuasai Bahasa Mandarin Untuk Masa Hadapan

This is the design of the original building which is under the 8 Conlay Project. Which shows the creative curved tall building similar to a curved tower.
It is also being shown at almost every corner of the project sites for public viewing.

After it has been posted on Twitter, people have been confused and scared at the same time. But luckily many have quickly try to calm the situation by providing valid information to everyone.
Assalamualaikum. Ada siapa siapa boleh confirmkan? Betul ke. Dpt info massive jamm. Really appreciate if someone can confirm it? Safe drive be safe. pic.twitter.com/l9fLh53Uic

— FDA (@faiqfikrey) December 23, 2019
It does looks scary though, but thank you all the good samaritans who shared the information. Really appreciate it!
Don't forget to follow us on Facebook and Instagram.
Burger 'Sampah' VS Burger Mahal – Mana Lagi Sedap?! 😱