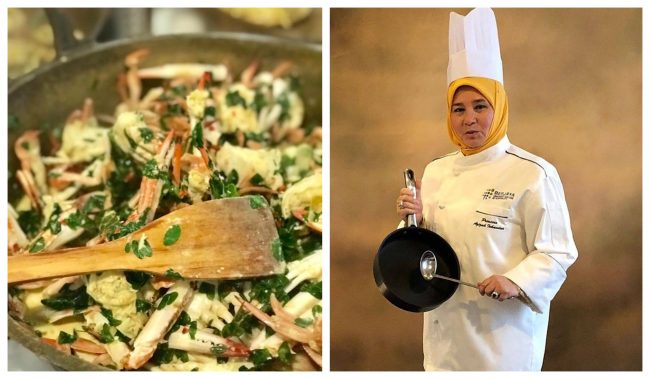 Our beloved Permaisuri Agong is so cool! She's not only managed to steal the title of "the most humblest royalty" out there, but also our heart.
Tunku Hajah Azizah Aminah Maimunah Iskandariah is the queen knowingly to be one of the best cook. Recently she's twirling Twitter by a storm when she showcase her cooking skills by making couple of dish for the palace staffs and her bodyguard.
READ ALSO: Nasi Boba Ada Tak Neraka Khas Untuk Orang Yang Masak Ni
sotong hitam dan masak lemak ketam ( not ketum ) daun munggai ( bukan daun ketum) utk pekerja Istana n BG…. picnic di pantai balok pic.twitter.com/Pd8NyrduSw

— azizah iskandar (@cheminahsayang) August 16, 2019
Her Majesty captioned this on her Twitter post:
"Squid in squid ink sauce and masak lemak crab (not ketum) moringa leaves (bukan daun ketum) for the palace staffs and my bodyguard, picnic by Balok Beach"

Netizens responded greatly on this post. And the best part is, Her Majesty replied to the comments.

As of now, she has more than 7k retweets for this Twitter post.

We gotta admit, her cooking does look delicious. Will there be a chance for any of us try Her Majesty's good looking food?
Let's cross our fingers and hope for the best.
Don't forget to follow us on Facebook and Instagram.