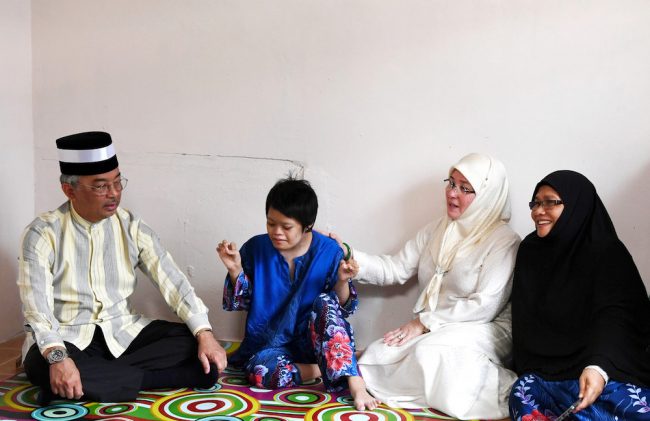 Who doesn't love all the antics and humorous charades of our lovely Permaisuri Agong? As she's Twitter-savvy, she made her daily life accessible to the people and everyone loves to see the inspiring plus quirky behaviour – we adore her.
In her recent Twitter post, Her Majesty, Tunku Hajah Azizah Aminah Maimunah Iskandariah sang a song to an OKU (orang kelainan upaya) woman in Kampung Sri Keramat, Maran during one of her visits.
READ ALSO: Permaisuri Agong Cooks Delicious Foods For Palace Staffs And Twitter Exploded
melaway anak istimewa di kg sri keramat, maran … dia suka nyanyi lagu tanya pd pokok dan suka melukis ….. pic.twitter.com/YdwjCkv13S

— azizah iskandar (@cheminahsayang) August 16, 2019
Her Majesty sang "Tanya Sama Pokok", a song made famous by the late Tan Sri P. Ramlee. She recited the lines after learning that it was the favourite song of Syafirah, the OKU woman.
Here's what she said in the caption of the tweet:
"I am visiting a special child at K. Sri Keramat, Maran. She loves to sing "Tanya Sama Pokok, and loves to paint.."

It is really unfortunate to see that the mother of the girl is paralysed after having a stroke. The mother is really touched after receiving the "once in a lifetime" treatment.
Anyone who sees this will of course be feeling awe. To anyone who would like to help, you guys can check their details on Google. And seriously, our Queen is really is the "people's champ".
Don't forget to follow us on Facebook and Instagram.
Inikah Tempat Paling Selesa Di Tengah KL?