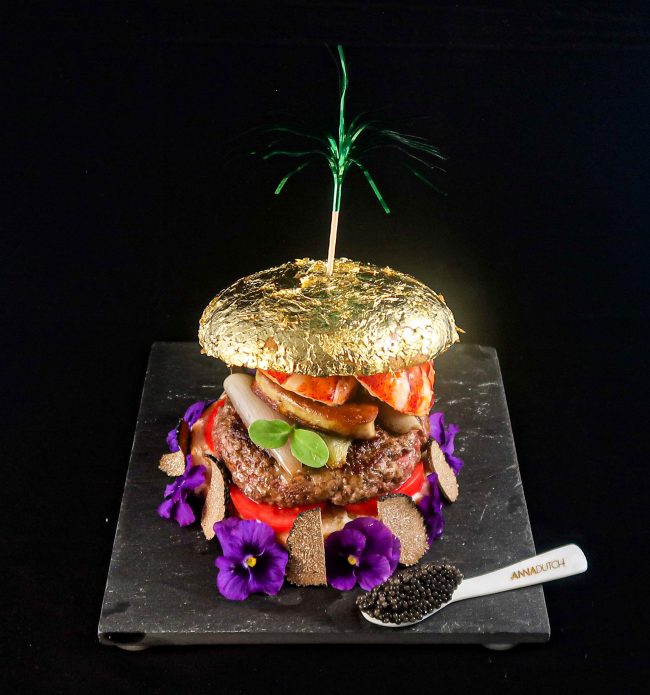 How much would you spend for a burger — RM4? RM15? – So one would maybe thought that "Okay, that RM25 worth of burger from a certain lab is a bit too much", you have seen nothing yet!
Hold on to your jaw, a burger joint in Singapore will be selling a really expensive burger for S$250 (RM800)! But bear in mind that this is for charity – phew!
READ ALSO: Burger King Singapura Perkenal Burger Perisa Rendang & Laksa!

Lombardo is a burger joint from Amsterdam that will open its first international franchise in Singapore, located at Duxton Road on October 11, 2019.
And they're not coming here empty handed; "The Most Expensive Burger" — yeah that is its name – will be available for a limited period of 11 days only, from opening day till October 21, 2019.

Lombardo's chef and founder is Martijn Verdonk, once a DJ spinner turned to restaurant owner for the people in Amsterdam. Bringing his culinary experience towards the famous comfort foods of all time, burgers.
But why do you ask "The Most Expensive Burger" is expensive? Here's why:
200g of high grade Japanese wagyu beef
Luscious buns covered in 24-karat gold
Pan-seared foie gras
Lobster tail, poached then drenched in butter
Banana shallots braised with champagne
Fresh Italian truffle
Spicy red cabbage compote
Caviar

Lombardo has been partnering with The Children's Charities Association of Singapore to support their cause for raising awareness of the challenges that children with disabilities in Singapore face daily. The profits of each "The Most Expensive Burger" sale will be going to the right hand.
And to give them the benefit of a doubt, they're clearly targeting customers who WANTS to try the expensive burger whilst giving the money to charity. We're strictly advising you to not go wrecking your piggy bank, or asking for loans just to get a bite of that luxurious burger.
What do you think of the burger, and what would you say the most expensive food that you ever buy? 
Share it in the comment sections!
Don't forget to follow us on Facebook and Instagram.
Restoran Di Shah Alam Ini Sentiasa Penuh, Apa Rahsianya! 😱