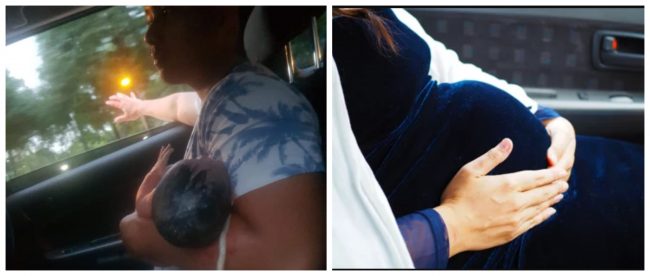 Now ask any expectant mother would want a smooth-sailing-breezy-chill-birth.
However a Singaporean lady had to go into a rather dramatic sequential  recently when she had to go into labour in her Grab ride. Whilst on the way to the hospital.
READ ALSO: Bayi Perempuan Lahir Di Malaysia Tahun 2019 Hidup Lebih Lama

THEY BOOKED GRAB TO THOMSON MEDICAL CENTRE
So the initial plan is, and as according to the given due date; it was supposed to be a National Day baby – August 9, 2019.
The mother known as Wani, started experiencing "sporadic contractions" – meaning a really big one! And both her and the husband decided not to wait any longer and booked a Grab car to Thomson Medical Centre.
EMERGENCY LABOUR IN THE CAR
The moment of calm immediately escalated quickly as Ms. Wani's stature went into active labour.
Unable to holding it in until the hospital, her water broke and she continued to push while moaning in pain. As the baby's head started showing, she finally gave birth to a beautiful baby girl.
Her husband managed to reached and swooped in to received the baby in his arms, before the newborn could land in the leg space between the front, and the back seats.
And with the baby in his arms, he stuck his bloodied hand out of the car window so he could help direct the heavy traffic – badass dad!


THE ALL SO CALM GRAB DRIVER, MR CHIA SHANG HENG
Throughout all the bloody ruckus in the backseat, the Grab driver remain calm and composed.
The couple were deeply touch and thankful to Mr. Chia, and requested for his number to compensate for all the mess that happened in the backseat.
Here's a snapshot of his Grab ID:

The mother wrote her thanks to Mr. Chia in her Facebook post as written:
"To our grab driver: Mr Chia Shang Heng,
We can't thank you enough for being so understanding, kind and tolerant towards us. We apologise for the mess made to your car, the business loss for not having a clean car to drive, and the terrible drama scene you had to deal with while driving. We hope your positive dispositions inspire others to be like you. Thank you once again for being our heroic driver"
CONGRATULATIONS! AND WELCOME NEW BABY!
It was a happy occasion for the couple despite the hardship they're being put in through.
The baby girl, named Mia, is healthy and recuperating well at the hospital.

The world needs more superhero – and superdad, like Mr. Chia and the husband. Being calm and content in that situation are the key to ensure that everyone's safe and secured.
We hope for the best for the newly parent, and the Grab driver, Mr. Chia. Here's the Facebook post explained through all the situations, by Ms. Wani:
At the moment, I am cuddling skin to skin with my precious newborn. It's hard for me to stop staring at her long enough…

Posted by Kamal Wani on Khamis, 8 Ogos 2019