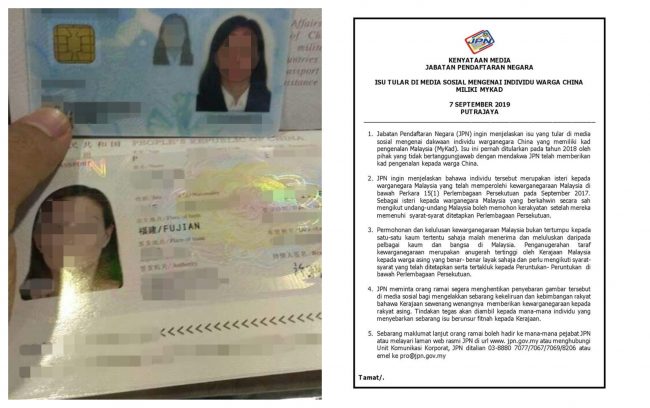 The National Registration Department (NRD) or 'Jabatan Pendaftaran Negara' (JPN), has is urging the public to immediately stop spreading news that Chinese citizens have been issued with MyKad.
This has somehow had caused confusion and anxiety on social media as people are expressing their discomfort on this matter.
READ ALSO: JPN Nama Anak Tidak Boleh Melebihi 80 Abjad

The NRD has issued a statement said stern action would be taken against individuals who spread slander, claiming that the government was granting citizenship to Chinese immigrants.
This issue in fact, has been cleared out to be an old issue that went viral back in 2018, and it's actually legit as she is the wife of a Malaysian who had acquired Malaysian nationality in September 2017.

Additionally, women who are legally married to Malaysian citizens may apply for citizenship after fulfilling all requirements, as stipulated in the Federal Constitution.
Therefore we would like to highlight that everyone should not be sharing any news or viral conundrum before getting all the facts right.
As this could disrupt our harmony and livelihood in Malaysia.
Don't forget to follow us on Facebook and Instagram.
Makan Ayam Bunyi Krup Krap, Minum Air Bunyi Ahh