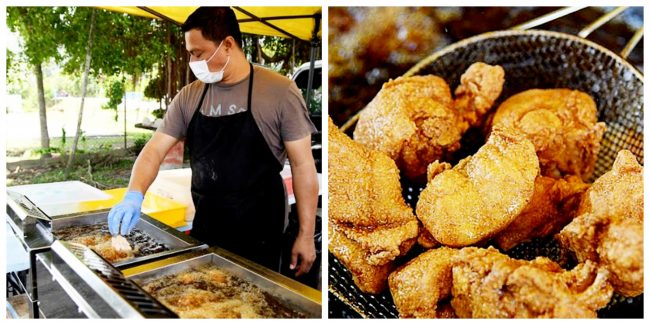 Everyone loves a viral food phenomenon. And as for this particular stall, they have been blessed as people are keep on coming to taste their special cuisine, fried chicken — Huh? what is so special about it?
As recently being shared on Free Malaysia Today, this street vendor at Keramat has been selling their fried chicken for only RM1! Adding that price with deliciousness, they managed to garner around RM15,000 per month.
READ ALSO: This New "Nasi Ayam KFC" Is A Must Try At Home

The business is run by a married couple; Mat Tohid Abdul Kadir, 38, and his wife Nur Razlin Ramli, 33.
This current business is actually a rebound after they failed in their previous endervour; rotisserie chicken (ayam golek). According to them, people now are not keen on spending more than RM10 for food item.
Alhamdulilah t. Kasih ya allahMintak maaf pade casteme yg tggu lme esok insyallah dapur akan tambah 1 lg. Casteme sy x payah tggu lme2.. Tq sbb sapot sy

โพสต์โดย Mat Tohid Ayam Goreng Rm1 เมื่อ วันพุธที่ 30 ตุลาคม 2019
The couple started their business in 2017, and have gone through various of challenges until today.
In a day, they managed to sell up to 70 to 80 chicken, and occasionally they even could sell a 100 chicken. That is how they could gained RM15,000 at the time.

This is what in the Malay culture called it as 'rezeki'.
The couple managed to open up another stall in Danau Kota and are really thankful for the new opportunity.
The stall are open every Monday till Friday starting from 11am.
Aside from their famous RM1 fried chicken, the stall sells other fried chicken products such as cheesy chicken and Spicy Korean Chicken, which are sold for up to RM6.

Have you guys tried it? The chicken must have been really good considering the amount of people lining up. Let us know in the comment of what you think of the taste!
Don't forget to follow us on Facebook and Instagram.
Burger 'Sampah' VS Burger Mahal – Mana Lagi Sedap?! 😱