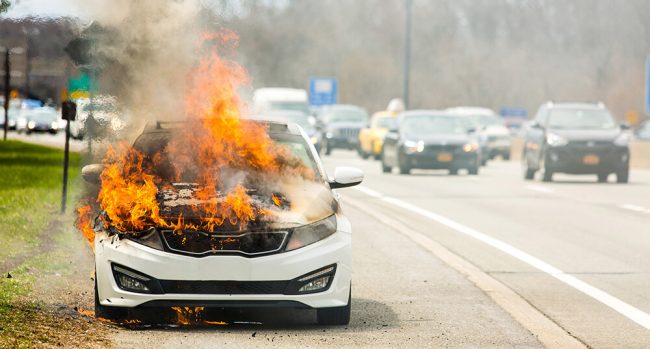 Living in this era of digital, electronic gadgets, smart living world; it does helped us to have better lifestyles — And make it a simple living.
But these convenience does comes with responsibilities; maintenance for example, or how to increase the livelihood of the things you own. In this case, when you own a power bank (a mobile charger for electronic gadgets), it must be not be left in the car or any hot environment, as it might explode due to the heat.
READ ALSO: PDRM: Elak Tampal Kertas Hiasan Pada Peti Ais, Undang Kebakaran

The incident happened in Rawang, Selangor, to a university student after his Perodua Kancil are in flames and completely destroyed by the fire. This actually occurred in front of his house.
The owner noticed first hand that there is smoke coming out of the car, and the power bank is actually on fire.
However the fire caught on quickly and engulfed the whole car before he can put the fire out.

Firemen then come to the rescue and managed to put out the fire. All and all, thankfully nobody was hurt during this incident.
Please be reminded to not leave any electronics with batteries in the car. Leave us a comment of you supporting this cause.
Don't forget to follow us on Facebook and Instagram.
Seminit Untuk Tahun 2019