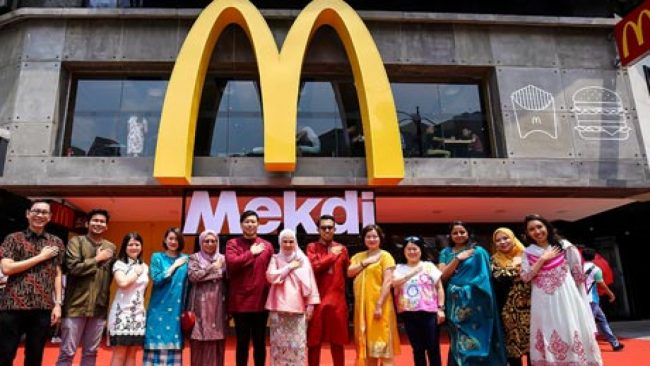 Now who has never heard the term "Mekdi" being used in replace to our favourite fast food grub – the McDonald's.
To celebrate Hari Kebangsaan and Malaysia Day, a McDonald's branch in Bukit Bintang had changed the signage in front of the store to "Mekdi" as showing supports to our local jargon.
READ ALSO: Abang McD Delivers Foods And Buy Panadol For Sick Customer

But why only just the McD at Bukit Bintang? – This particular branch in Bukit Bintang is chosen as it is the very first McDonald's restaurant to open in Malaysia back in 1982.
Here's how the VP and Chief Marketing Officer of McDonald's Malaysia, Melati Abdul Hai explains it:
"For the past 37 years, Malaysians have helped develop McDonald's brand to what it is today. As an appreciation for their continuous support, we've decided to use the friendly nickname 'Mekdi', which is now synonymous with our brand"

McDonald has always supporting the local culture which often portrays to the lines of Malaysia-influenced menu such as the Cendol cone, Cempedak McFlurry, and the people's favourite, Nasi Lemak McD.
To celebrate the Merdeka month, McDonald's Malaysia recently introduced a new version of Nasi Lemak McD which different than how it was introduced back in April, 2019 – it doesn't come with a side of curry.

McDonald's Malaysia also has launched a petition to make Nasi Lemak as the official Malaysia's national dish – as they realised Malaysia don't have one.

Everyone could join the petition and it needs to be sign by September 16, 2019 as it is our Malaysia day. The best part is, in their website stated that "nasi lemak is unmistakably Malaysian" – obviously refers to Singapore who claims it as their own.
Kudos given to McDonald's Malaysia as they're going miles to liven up our local culture. And as for everyone in Malaysia – local or foreign, lets celebrate our independence day to the fullest and support any ideas that can make us proud to be in this very country – Malaysia Boleh!
Don't forget to follow us on Facebook and Instagram.