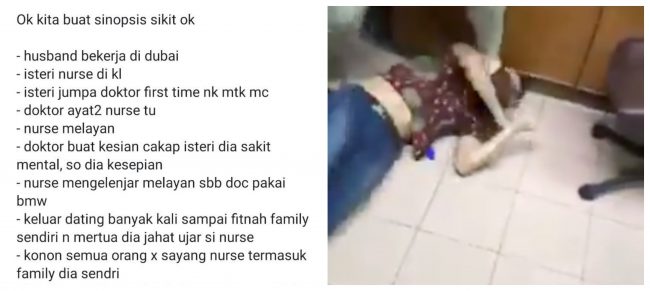 Well, the story of a love triangle, someone loving someone else's husband, someone going out with someone's wife; had sadly, become a norm — or a new living culture if you will. 
A video went viral on Twitter about this one doctor in Bandar Baru Bangi was beaten to a pulp by his nurse's husband, for cheating with the said nurse — woah, this clinic will get one helluva rep after this thing past!
READ ALSO: Man Caught Sleeping With Two Women Because Scared Of 'Cicak'

This is not one of that story where the husband is just a hot-headed guy. The husband known as Aiman, had gathered up all the evidences of his wife's scandal; including some videos, receipts, timeline, even had been contacting the doctor's wife to gain proofs.
Aiman himself is currently working in Dubai, now close to a year — the husband "keje" oversea kind of situation.
You may watch the video here:
Doktor kena belasah.

Kalau yang perempuan tak melayan tak jadi jugak, belasah la dua-dua sekali, tunjuk muka perempuan tu sekali baru adil. pic.twitter.com/oaywFUYmfU

— MALAYSIA MOST VIRALL (@MALAYSIAVIRALL) October 4, 2019
But still, what we learnt about the net is that we should somehow give the benefits of a doubt. Maybe there is a reason behind this — who knows? This is how god intended to test the long-distance's couple.
What we should learn is to not CHEAT! Or this can happen. If the relationship is a lost, try and discuss — yeah, this is a love tip.
Don't forget to follow us on Facebook and Instagram.
Nasi Kukus Pertama Atas Dunia Bukak 24 Jam, Kini Di Kajang!