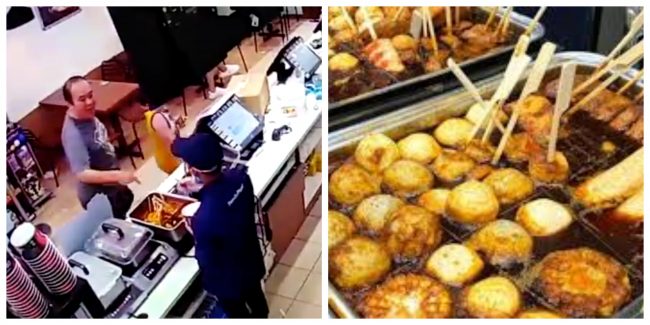 "Customer is always right" is somehow a phrase that is mistakenly being abused by some people. And people has realised that it is not always the case. Customer is right whenever they do the right thing.
But people are using the phrase as an excuse to be rude or to portray their ego. Unfortunately a Family Mart worker has been a victim to this terrible guy for simply doing his work.
READ ALSO: Baling Barang Pada Pelanggan, Cashier Jelaskan Perkara Sebenar
Aku taktahu la nak mula cemana tapi kalau orang macam ni memang sial. Dah orang kata tak boleh sentuh tak boleh sentuh la. Ni tidak kau degil lepastu bila staff cakap tak boleh sentuh kau maki dia. Kalau hang cakap "customers always right" hang memang pala butoh. pic.twitter.com/gHYDbYVEbL

— beng (@wnmhmdidhm__) December 21, 2019
This video was shared on Twitter showing a guy with (possibly) his son browsing in Family Mart.
Showing their interest at the Oden station, the worker pulled the lid covering the Oden, in preparation to serve them. However the rude customer immediately reached his hand into the Oden container which is not allowed as he is not wearing any gloves.
Hygiene is a priority for this convenience store originated from Japan.
But the rude customer probably had his ego touched by it — Only God knows. Not only did he touched the Oden once, but MANY times as seen in the video.
Netizens are not having this and they express how they felt on this video:

Many even pity the kid for having to grow up with that attitude in the family.

Please be nice to everyone people! We only live once, so let is be a harmonious living for everybody!
Don't forget to follow us on Facebook and Instagram.
Burger 'Sampah' VS Burger Mahal – Mana Lagi Sedap?! 😱