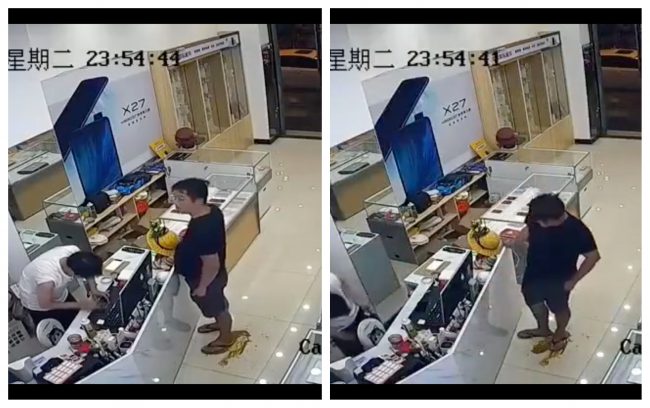 When nature's call, would you try to find a toilet, or make your own toilet in a gadget shop?
For this particular guy, he decided to keep his calm and what it seems like waiting for his smartphone to be repaired, while doing his 'business' – he had a splurge.
READ ALSO: [VIDEO] S'porean Dad Threw Used Diaper On Parked Car

The 15-seconds video showed a guy in a navy blue t-shirt standing in front of the shop's counter.
Just a few seconds into the video, there seems to be brown substances goes down his shorts, and it looks mighty disgusting.
Here's the video of the 'watery' incident:
可能當時只是以為是個屁吧…

Posted by 網污 on Jumaat, 6 September 2019
The best part about this, is the calmness of the blue t-shirt guy. He even stepped on his own puddle of — you know – mud? He even continue focusing on his smartphone for what we assume to maybe answering an urgent text messages.
All and all, we don't think that this is what anyone should do in this situation regardless of anyone at any age.
But what would you do in this situation?
Don't forget to follow us on Facebook and Instagram.
VIRAL!!! PISANG NUGGET DI MALAYSIA – AKAN BUKA DI PAVILION – SANG PISANG BY KAESANG