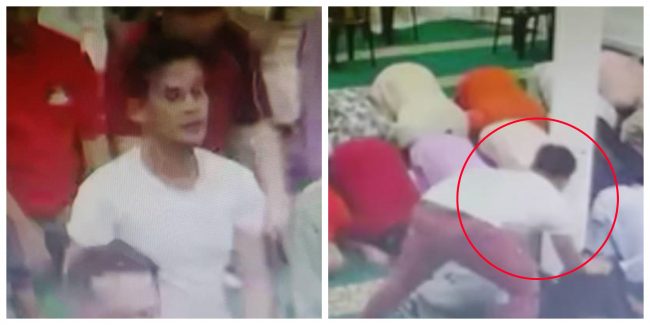 Isn't the world a scary place? We tend to live by laws and certain rules that ideologically is to create a harmonic living.
But somehow, there are still some individuals who are taking 'harmonic living' for granted. Even brave enough to breach the holy place such as a mosque. Recently there is a video being shared on My Crime Watch Twitter, showing a man stole bags whilst others are kneeling (sujud) during prayer.
READ ALSO: A Jewellery Heist: RM1 Million Lost at Ipoh

The video clearly captured the thief's features; seems to be a healthy looking guy, physically fit, wearing a white T-shirt, and maroon-ish jeans.
We can probably assumed that he has been eyeing the bags even before they started praying. As everyones are kneeling, he quickly snatched the bags and make an escape.
Beg milik seorang rider Grabfood dilarikan seorang lelaki ketika sedang solat Maghrib di sebuah masjid di Ampang semalam. Di dalam beg terdapat kunci motor, dompet & telefon bimbit. pic.twitter.com/9xBnPphTHy

— MyWatch (@My_CrimeWatch) December 13, 2019
The mosque is located at Dagang Avenue, Ampang.
The victim was a lorry driver, who just finished with his delivery via Grab app who stopped there to do his prayers. He lost few personal documentations, a smartphone, some clothes, as well as a few cash.

The police are still looking for the culprit, and are requesting anyone with information on the case to contact Sergeant Nurhaziq Norizan at 03-4252 4866.
This is unacceptable to anyone regardless of religions or race. Let us know what you think of this in the comments section below. And please let the police know for any information you may gather.
Don't forget to follow us on Facebook and Instagram.
Ini Lokasi Kopi Terbaik Di Puchong Yang Ramai Tak Tahu