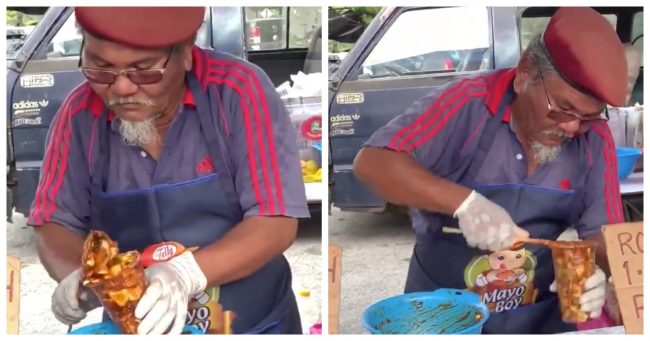 Oh — How we all love the food stalls in Malaysia!
Many of them sells really great food with affordable price. Recently there's new one 'uncle rojak' hit Twitter by storm with his generosity when filling in rojak buah in a cup before selling it.
READ ALSO: Modal RM3k, Penjual Nasi Lemak Ini Jana RM400,000 Sebulan

That cup is much bigger than the 'Venti' sized, the one in Starbucks.
The food stall also look really clean and it looks really appetising after the first look. You can watch the video here:
Sesape penggemar tegar Rojak Buah tu boleh lah serbu gerai Pakcik ni. Serious tak kedekut, cup dah penuh pun siap hempas nak bg padat. Semoga Pakcik ni murah rezeki. Aamiin 😍

📍Pasar Malam Indera Mahkota , Kuantan Pahang ❤️ pic.twitter.com/rXDpHibKmK

— ig : UmieUmmairahh (@UmieUmmairah) October 5, 2019
To anyone who would like to try this uncle's rojak, a nice netizen shared his whereabouts for you guys to find it:

So everyone in Pahang, you guys can check out this uncle rojak at:
Pasar Malam IM 1 on Friday,
Pasar Malam Sg.Isap on Saturday,
or.. Pasar Malam Taman Gelora on Sunday
Do you anymore places similar to this one? Let us know in the comment section below.
Don't forget to follow us on Facebook and Instagram.
Udang Galah Cheese Bakar, Tomyam Dalam Kelapa Paling Pure Dalam Malaysia?